Mye's Page
This page is to Celebrate Myetel's and Pyth's Fifth Anniversary, we wish them many more.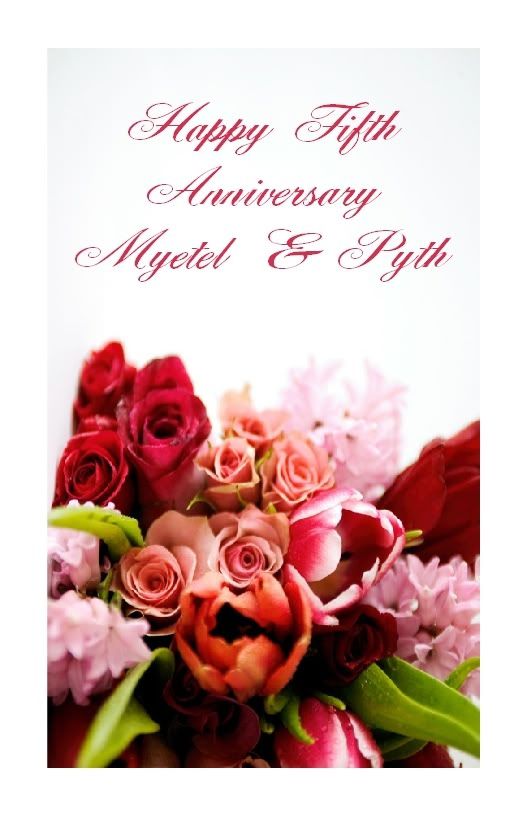 For one of my favorite authors and just a fun person to be with. :) This is from some of us.

"Signatures"
Liege Lord says: Very nice, such a great author. :)
Jelfia says: Happy anniversary! Hope you two have tons more filled with lots of love and laughter, and writing, and gaming, and mass effect, and you know, everything else :D
JD196 says: Very sweet thing to do. Happy anniversary guys.
CalliesVoice says: Happy Anniversary you two! May you have many more happy years together!
Dermiti says: Congratulation to the best fan fiction story I have had the pleasure of reading. The fact that you started this a year ago and you are still adding to this masterpiece blows me away. I feel lucky to have found your story, and I wish you the best. Keep on writing!
Shinimegami says: Happy Anniversary! Hope there's millions more to come ;)
Myetel says: Thank you all! I wasn't expecting this, and it's a lovely surprise that actually made me tear up a bit. :-) Yes, I'm a sap!
CalliesVoice replies: We're all romantics, at least a little bit, at heart. :)
Dermiti replies: Aww, have a hankie! This was a great surprise and I approve of sappy romantics. We need more of them! *hugs*
Card was placed by CalliesVoice
page revision: 0, last edited: 20 Jan 2012 17:03